Main Page
From VectorWiki
Welcome to VectorWiki!
Since going online in February of 2007, VectorWiki has rapidly become the largest independent inventory of VectorWorks®-related resources on the web.
This is not to say that VectorWiki has more content than any other VectorWorks-related site out there. But if other sites have a bunch of content that we don't have, we provide links to their sites! :) The value of VectorWiki is that it provides a framework into which everything can be placed, whether it's the content itself, in the form of a wiki article, or it's a reference to some other site that is doing a wonderful job of managing some different type of information.
So if you're looking for information about VectorWorks, this is the best place to start! If we don't have it, we'll tell you who does... :)
VectorWiki is a community-maintained site, so if you see something that could be improved, feel free to jump in edit it! See the Help:Contents page for more info.
Don't forget to check Nemetschek's site on a regular basis. Their site is absolutely enormous, with complete descriptions of each of their products, including VectorWorks Fundamentals, RenderWorks, Architect, Landmark, Spotlight, and Machine Design. There are tons of example drawings done by VectorWorks users from all over the world. There are tutorial videos, tips & tricks pages, and tons more stuff to help you learn about VectorWorks. And they are constantly adding new stuff.
If you're interested in the history of VectorWorks, see the Wikipedia article done by Sean Flaherty, the CEO of Nemetschek North America.
VectorWiki Usage Statistics
Here's the site stats for the period of February~September, 2007.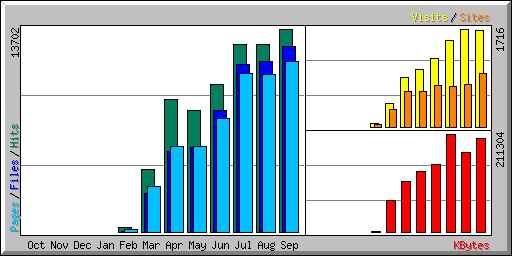 These statistics do not include hits from sysops, spiders, or spambots.